Stay Tuned for Information Regarding Shop Hop 2022!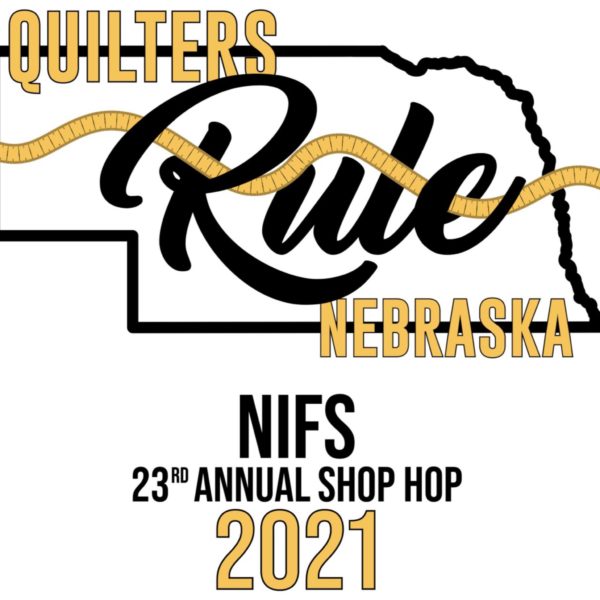 Your $15.00 fee includes the tote bag, a fat quarter of the exclusive shop hop fabric and ruler, plus your stamp card to record your travels. Currently, there are still 65 bags left throughout the Shop Hop stores.
Still Available While Supplies Last!
 Refer to the list of participating shops to find a shop near you. Many shops are also happy to accept reservations to have your bag paid for and picked up at a later date as well.  Contact one of the participating shops for details.
Contact Connie N. at (402) 372-2004 to register.
Shops That Participated in Shop Hop 2021
ACME Fabric & Quilt Co, Blair
Betz's Little Shoppe, Newman Grove
Calico Annie's Quilt Shop, Fullerton
Celtic Quilter, Omaha
Cosmic Cow, Lincoln
Creative Collectible Quilts and Crafts, Humboldt
Creative Notions, West Point
Fabric Bash, Omaha
I Bee Quiltin, LLC, Norfolk
Just Sew, Wayne
Pat's Creative, Hemingford
Prairie Pines Quilt Shop, Gering
Quilt Stitches, Beatrice
Quilters Candy Shoppe, O'Neill
Sew What Needle Arts & Quilting, Columbus
The Quilt Basket, York
The Quilt Shop, Wakefield
The Quilt Stop LLC, Scottsbluff
The Quilting Shack, Broken Bow
BRING YOUR SHOP HOP BAG TO A PARTICIPATING SHOP
AND RECEIVE 20% DISCOUNT ON
THE FIFTH SATURDAY OF A MONTH
There are four or five times each year when there are 5 Saturdays that occur in a month.  When you purchase your 2019 shop hop bag, you can take 20% off of your qualifying purchases at the participating stores on these days.  Each store has the right to post restrictions to what is not included in this promotion in their store.  Most stores do not do extended hours on these days so check their regular open hours or call for their Saturday hours.  The Saturday's for this year are:
July 31st
October 30th
January 29th, 2022
Special for this year we are doing a 20% off on the 20th of each month!!  Bring your bag into your favorite Shop Hop Shop on the 20th of the month to receive your 20% off.  The dates for this event are:
July
August
September
October
November
December
January, 2022
February, 2022
2021 Shop Hop Gift Certificate Winners
Judy Jecha, Lincoln – $500.00
Crystal Ladd, Genoa – $300.00
Kathy Wichita, Papillion – $200.00
Donna Lopour, Schuyler – $100.00
Visited 6 or more Shops
Sandy Johnson, Lyons – $50.00
Anita Morrison, Tilden – $50.00
Jacque Schwery, Blair – $50.00
Visited All Shops
Kris Boelter, Dwight – $100.00
Visited 1 to 5 Shops
Wendy Stange, Omaha – $25.00
Cheryl Sejkora, Burchard – $25.00
Winners

of th

e Ruler Demo
Acme Fabrics & Quilt Co. – Pat Gormley, Lincoln
Betz's Little Shoppe – Bettie Sproul, Logan, IA
Calico Annie's Quilt Shop – Lynne George, Lincoln, NE
Celtic Quilter – Barb Haselhurst, Neligh, NE
Cosmic Cow – Cathy Heetderks, Adams, NE
Creative Collectible Quilts – Marcia Adler, Omaha, NE
Creative Notions – Susan Scofield, Verdigre, NE
Fabric Bash – Irene Smisek, Wilber, NE
I Bee Quiltin, LLC – Jean Sorensen, North Bend, NE
Just Sew – Kathy Whitmore, Norfolk, NE
Pat's Creative – Judy Lood, Mitchell, NE
Prairie Pines Quilt Shop – Jan Brown, Sioux City, IA
Quilt Stitches – Dede Nichols, Omaha, NE
Quilt Stop – Claudette Schmidt, Scottsbluff, NE
Quilters Candy Shoppe – Jodie Fisher, Ravenna, NE
Sew What – Rachelle Westlake, Norfolk, NE
The Quilt Basket – Dawn Downey, Lincoln
The Quilt Shop – Corinne Wilkinsen, Beatrice, NE
The Quilt Shack – Kathy Wemhoff
Ellen Konsel, Dodge Robin Castor, Ericson
Jean Sorensen, North Bend Rose Frerichs, Lincoln
Hannah Mullally, North Bend Kris Boelter, Dwight
Nancy Tennant, Lewiston Sandra Anderson, Lincoln
Cornnie Wilkinson, Beatrice Patsy Mellen, Lincoln
Crystal Higgins, Beatrice Linda Peer, Bartlett
Pat Jantz, Beatrice Ken Ledgett, Bartlett
Mary Witulski, Beatrice Charlene Schroeder, Wakefield
Terri O Brier, Bellevue Kathleen Salmon, Wakefield
Jennifer A Mullally, Newman Grove Donna Lopour, Schuyler
Sherri Fish, Madison Eunice Thomas, Grand Island
J Becker, Norfolk Jenny Tyrrell, Pender
Judy Reha, Aurora Becky Brennan, Ponca
Judy Roberts, Norfolk Janet Kick, Omaha
Viva Hendricks, Randolph Judy Morrow, Norfolk
Julie Holmberg, Norfolk Martha Bergquist, Oxford
Kathy Wemhoff, Norfolk Rochelle (Shelly) Martin, Hooper 
Jennifer Green, Grand Island Rick Gaeth, Fremont
Glenda Wiedeman, Norfolk Judy Gaeth, Fremont
Sandi Kosch, Shelby Diane Kander, Stanton
Kelly Culbertson, Omaha Vicki Johnson, Panama
Dede Nichols, Omaha Mary L. Christensen, Norfolk
Mary Ann Carter, Shelby Jolene Grass, Norfolk
Douglas Svitak, Howells Shellie Rathjen, York
Ardith Svitak, Howells Gay Abrghamson, Omaha
Jamie Slack, Columbus Bobbie Uhlmann, Columbus
Connie Jensen, Columbus Doris Dorman, Kearney
Kathy Sorensen, Ong
Rita Stapleton, S Hutchinson, KS
Barbara Halverson, North Platte
Doris Kosters, Hastings
LaDonna Grubbs, Lincoln
Eileen Spencer, Alliance
Linda George, Leo, IN
Marie Payne, Ericson
Amy Singleton, Omaha
Sandra Wolff, Bennington
Judy Wunder, Omaha
Nora Kinsey, Co. Bluffs
Cheryl Fowler, Hordruille
Peggy Hinrichs, Hildreth
Kristie Bunger, Upland
Linda Spencer, Lincoln
Stephanie Morin, Co Bluffs
Micki Walker, Lincoln Judy Gaeth, Fremont
Susan Sorgenhei, Kearney Judy Morrow, Norfolk
Melanie Pickell, Craig Linda Liekhus, Omaha
Eileen Krumbach, Shelby Jeanne Scheuneman, Schuyler
Carol Fajen, Carson, IA Nancy Tennant, Lewiston
Sandy Maillie, Norfolk Karen Walbridge, Lincoln
Carla McKnight, Omaha Diane Long, Wayne
Liz Keehn, Belgrade Rose Frerichs, Lincoln
Susann Muehlmeier, Norfolk Lois Coufal, North Bend
Janet Kich, Omaha Sarah Landretti, Lincoln
Karen Gabel, Shelby Lisa Roseland, Omaha
Carol Hamilton, Lincoln Cherie Averill, Lincoln
Gay Abrahamson, Omaha Marilyn Eymann, Tilden
Linda Pohlman, Norfolk Jeanne Anderson, Columbus
Becky Pearson, Genoa Barb Pohlman, DeWitt
Ruth Van Horn, Columbus Jana Lienemann, Elkhorn
Michele Kuhlmann, Sioux City, IA Rita McManigal, Blair
Barb Bedke, Lincoln Pat Gormley, Lincoln
Marguerite Hansen, Vallley Becky Beckmann, Norfolk
Carolyn Garner, Lincoln Suzanne Moss, O'Neill
Kathy Whitmore, Norfolk Linda Johnson, Crete
Katie Wilson, Norfolk Karen Costello, Bellevue
Jodie Fisher, Ravenna Barbara Haselhorst, Neligh
Hannah Mullally, North Bend Brenda Seegebarth, Norfolk
Patsy Futtere, Hay Springs Marge Buster, Columbus
Jane Roesler, Malcolm Judy Jones, Mason City
Sharon Lienemann, Pierce Betty Koenig, Daykin
Bonnie Diener, Sidney Patricia Conway, O'Neill
Judy Reha, Aurora Deb Pieper, Hay Springs
Carol Baack, Utica Gracelyn Baumert, Clarkson
Wendy Stange, Omaha Jean Morgan, Allen
Hannah Baumert, Clarkson Sharon Sullivan, Ponca
Irene Smisek, Wilber Maria L. Austin, Meadow Grove
LouEffa McHenry, Gering Jean Dougherty, Bellevue
Thelma Seevers, Seward Margie Sergent, Columbus
Donna Lopour, Schuyler Janet Brown, Sioux City,IA
Lora Yardley, Lincoln B. Colleen Qvadhamer, Minden
Jessie Nilson, Lincoln Harlan Seyfer, Plattsmouth
Dorothy Beaudette, Creighton Alice Janecek, LaVista
Kathleen Salmon, Wakefield Corinne Wilkinson, Beatrice
Lynn Wallace, Seward Eileen Smith, Fremont
Opal McConnell, Palmyra Deb Figgner, York
Nikole Marschman, Jansen Carol Woerlen, Johnson
Betty Wragge, Pierce Marcia Duerksen, Diller
Nancy Spahn, Fontanelle Sandra A. Anderson, Lincoln
Ken Lidgett, Bartlett Crystal Higgins, Beatrice
Viva Hendricks, Randolph Deb Reppert, West Point
Robin Castor, Ericson Judy Mischke, Norfolk
Dolores Woita, Weston Karen Zach, Wayne
Connie Seier, Elgin Ann Geewe, Wakefield
Connie Painter, Plattsmouth Tara Tess, Bellevue
Deb Pekarek, Malcolm Joyce Sheehan, Seward
Rosalene Tollman, Marsland Barbara Halverson, North Platte
Debi Kozney, Omaha Susan Gerdes, Blair
Beverly Zwick, Staplehurst Susan Poland, Litchfield
Gloria Miller, Columbus Cathy Kaufman, Gering
Mari Melcher, Monroe Connie Ackerman, Marysville, KS
Nancy Gross, Madison Margaret Hensley, Elgin
Connie Roberts, Wakefield Mary Shofl, Coleridge
Pat Mommsen, Yutan Deborah Jo Russ Farwell, Huboldt
Linda Glisson, York Lunne George, Lincoln
Sandra Wolff, Bennington Karen Syas, Omaha
Terry Paulsen, Blair Linda Hoschar, Omaha
Gayle Paschall, Fremont Linda Peer, Bartlett
Scott Reinhardt, Omaha Teri Nieveen, Adams
Marcia Adler, Omaha Kate Arthur, Omaha
Rita Stapleton, S. Hutchinson, KS Sharon Rief, West Point
Kathy Wichita, Papillion Eunice Thomas, Grand Island
Jean Sorensen, North Bend Paula Pinkelman, Madison
Jocelyn Caskey, Omaha Bonnie C Stephens, Blair
Tammy Meier, Wayne Valerie Lauritzen, Lincoln
Kate Dunning, Sioux City, IA Kathy Duval, Pierce
Sharon Bokowski, North Bend Nancy Berney, Stanton
Jacque Schwery, Blair Lori Porter, Plainview
Cheryl Richardson, Norfolk Jodi Isom, Lincoln
Sharon Lesser, Pierce Joan Watonnelson, Irwin
Rochelle (Shelly) Martin, Hooper Bobbie Uhlmann, Columbus
Judy Wunder, Omaha Mary Ann Carter, Shelby
Sherry Wenzl, Norfolk Joyce Hill, Omaha
Cheri Johnson, Hay Springs Donna Booth, Malmo
Karen Fox, Fairbury Shirley Spence, Stanton
Linda Nordyke, Norfolk Kelly Culberton, Omaha
Judy Roberts, Norfolk Eileen Spencer, Alliance
Dawn Downey, Lincoln Linda Seiler, Battle Creek
Jean Schmersal, Malcolm Thelma Cronin, Omaha
Diane Peterson, Laurel Linda Christeleit, Lingle, WY
Anna Crabtree, Brunswick Mickie Werny, Lincoln
Alma Reimer, Beatrice Judy Konrad, Columbus
Vickie Greve, Wakefield Bonnie Augustin, Shelby
Jolene Grass, Norfolk Terri O'Brien, Bellevue
Virginia Bosco, North Bend Barbara Swedenburg, Columbus
Reta Meyer, Tekamah J. Becker, Norfolk
Katelyn Vrtiska, Dorchester Sandi Griepenstiol, Central City
Patsy Mellen, Lincoln Mardell Kohl, Meadow Grove
Jane Ronzzo, Omaha Ardith Svitak, Howells
Dian Maghuson, Omaha Georgene Gottsch, Valley
Mary Wheeldon, Omaha Jessie McClay, Lincoln
Theresa Stanton, Omaha Cheryl Sejkora, Burchard
Nancy Hanna, Columbus Abby Campbell, Omaha
Andree Hoeman, Columbus Karen Henry, Schuyler
Cindi Evens, Logan, IA Imogene Brasch, Wayne
Marvella Borgmann, Madison Kathy Wemhoff, Norfolk
Mary Witulski, Beatrice Linda George, Leo, IN
Amy Singleton, Omaha Jennifer Nelsen, Wayne
Denice Denning, Central City Judi Bergjord, Bellevue
Jeanne Burmeister, Blair Penny Fehringer, Wayne
Diana Zach, Wayne Connie Schindel, Petersburg
Glenda Wiedeman, Norfolk Jamie Slack, Columbus
Diane Kander, Stanton Jenny Lindblod, Lincoln
Nancy Nettleton, Allen Beth Schneider, Holdrege
Dawnette Makovicka, Lincoln Shirley Kunas, Fremont
Pat Parrott, Lincoln Doris Dorman, Kearney
Doris Kosters, Hastings LaDonna Grubbs, Lincoln
Jennifer A Mullally, Newman Grove Lavrie Baumert, Norfolk
Carol Jean Stapleton, Allen Holly Coenen, Allen
Joyce Glaesemann, Lincoln Linda Bontrager, Ithaca
Vicki Goodwater, Battle Creek Kandace Stineman, Norfolk
Kathy A Kliment, Valparaiso Cathie Eberle, Ansley
Bettie Sproul, Logan Judy Dahlgren, Lincoln
Richelle Swanson, Dorchester Vicki Johson, Panama
Kaye McCloy, Lincoln Kathy A. Sorensen, Ong
Connie Coe, Hooper Vicki Ambroz, Norfolk
Ruth Gryskiewicz, Co. Bluffs, IA Charlene Schroeder, Wakefield
Rick Clements, Elmwood Renee Dalton, Malcolm
Pan Rodgers, Lincoln Casey Peters, Co. Bluffs, IA
Mary Hanke, Omaha JoAn Zimmerman, Lincoln
Joanna Pankoke, Fairmont Lora Leathers, Lyons
Carolyn Bowman, Lincoln Shirley Sueper, Lindsay
Tracy Davies, Elkhorn Ann Hemmer, Humphrey
Sandy Daniels, Omaha Peggy Hinrichs, Hildreth
Kristena Eden, Lincoln Robin Siragusa, Omaha
Kathy Bangsund, Lincoln Joani Schelm, Omaha
Louise Logston, Polk Charlette Boe, Lincoln
Claire Frevert, Aurora Teri Peitzmeier, Neligh
Rick Gaeth, Fremont Judi Thelander, Omaha
Gail Block, Verdigre Carolyn A Schmid, Albion
Cindy Rivic, Omaha Tam Spiegel, Norfolk
Sherry Johnson, Elkhorn Bart Keegan, Hemingford
Leann Widhalm, Norfolk Sue Soper, Aurora
Nancy McCabe, Omaha Sharon Packard, Cortland
Kristie Bunger, Upland Martha Oway, Crawford
Mick Brandt, Omaha Katie Hanbrich, Omaha
Connie Sugden, Albion Irene Musil, Inman
Bonnie Seyfer, Plattsmouth JoDene Jedlicka, Norfolk
Sherry Scholten, Valley Springs, SD Bev Wolverton, Madison
Barbara Johndrean, Gering Ellen Konsel, Dodge
Carol Eilers, Spencer Cassy Mohling, Beatrice
Therese Hoyle, Fremont Linda Plack, Omaha
Pat Dunlap, Omaha Lynn Heidorn, Seward
Karen Marymee, Scribner Lori Kolle, Alliance
Terry Venteicher, LaVista