Stay Tuned for Information Regarding Shop Hop 2023!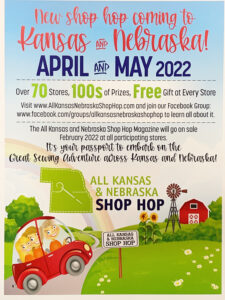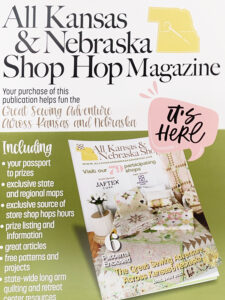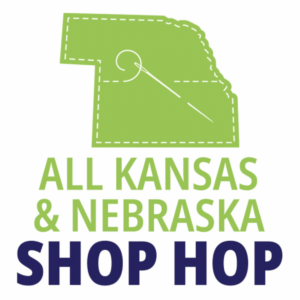 Shops Participating in Shop Hop 2023
ACME Fabric & Quilt Co, Blair
Around the Spool Quilting Co, Louisville
Betz's Little Shoppe, Newman Grove
Calico Cottage, Hastings
Clausen Paus, Columbus
Cosmic Cow, Lincoln
Creative Collectible Quilts and Crafts, Humboldt
Creative Notions, West Point
Fabric Bash, Omaha
I Bee Quiltin, LLC, Norfolk
Nebraska Quilt Co, Fremont
Pat's Creative, Hemingford
Prairie Pines Quilt Shop, Gering
Quilt Stitches, Beatrice
Sew Bee It Quilt Shop, Hebron
Sew What Needle Arts & Quilting, Columbus
The Quilt Basket, York
The Quilt Shop, Wakefield
The Quilting Shack, Broken Bow
The Udder Store, Seward
More to Come…
2022 Fall Shop Hop Winners
$100 Gift Certificates
Mickey Nevitt – Lincoln
Vicki Clements – Omaha
Kathryn L. Farrens – Omaha
Bernice Vitosh – Beatrice
Connie Henertz – Bellevue
$50 Gift Certificates
Jane Roesler – Malcolm
Nancy Gocke – Waco
Barbara Halverson – North Platte
Gayle Sayers – Clarkson
Joan Baumgart – Norfolk
Nancy Heiden – Waco
Jane Stangi – Papillion
Sandy Lett – Prague
Marjorie Beister – Columbus
Theresa Wismer – Lincoln
Cheryl Hesman – Elkhorn
Sheryl L. Cassell-Niles – Prague
Annette Dondlinger – Papillion
Bobbie Uhlmann – Columbus
Robert Halverson – North Platte
Susan Wilke – Columbus
Joleen Cameron – Elkhorn
Dennis Lett – Prague
Deanna Wismer – Martell
Mary Witulski – Beatrice
$25 Gift Certificates 
Kelly Culbertson – Omaha
Joyce Sheehan – Seward
Mary Christensen – Norfolk
Becky Beckmann – Norfolk
Merna Recker – West Point
Joni Tietz – Carroll
Kristen Henry – Grand Island
Roxanne Sexton – Sioux City, IA
Linda K. Gray – Albion
Carolyn Brooks – Grand Island
Nancy Gross – Madison
Judy Mischte – Norfolk
Rebecca Barry – Omaha
Neva Umstead – Fullerton
Paula Pinkelman – Madison
Deb Thurin – Hastings
Nancy Klein – Columbus
Traci Weerheim – Blue Hill
Connie Coe – Hooper
Connie Schnier – Bancroft
2023 Shop Hop Fabrics
Are in the process of being selected!
Will let you know when they are printed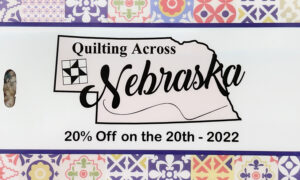 Special for this year we are doing a 20% off on the 20th of each month!! Bring your luggage tags into your favorite Shop Hop Shop on the 20th of the month and receive your 20% off. The dates for this event are: Check for store hours.
November 2022
December 2022
(New Luggage Tag coming in January 2023)